So
Creepy Tree
got a write up on
Claycord
yesterday!! Claycord is a local blog/news source that basically covers the Walnut Creek/Clayton (plus some) area. It was really exciting at first. But now I'm reminded of what I hate about the internet.
It is SO easy to sit anonymously behind your computer and write mean shit about other people. Strangely, within the last day or so, people were whining on
Claycord's Facebook
page about how there haven't been any positive stories lately. So the guy posts about a story about a tree and now all the assholes come out to talk about how stupid it is! I don't know...maybe they just caught me on a bad day, but they're all lucky that Claycord hasn't posted their addresses so I can go vandalize their properties (little bit of an inside Claycord joke...I don't really want to ruin anyone's property).
Anyway, at the end of the day, all of the haters can cry and hate all over themselves. I would rather have a Facebook fan page about a tree than be checking out child porn. Yes, maybe a fan page for a tree is stupid but its all in good, CLEAN fun. And to the girl who calls herself Twat, you are aptly named. I have no children and taking a photo or two of a tree isn't taking away from the rest of my life whatsoever.
I don't want to dwell on the negative. On the positive side, Creepy Tree's fan page gained about 100 new fans overnight. So, I thank Mr. Mayor of
Claycord.com
for posting a positive story about a beautiful tree that I still love even though some of the people on his website think I am stupid for doing so. I guess I should be used to it since I know some of my own "friends" have been talking behind my back because of Twirly Girls. I'm trying to just hold my head high and not let those kinds of people waste my time, but clearly I need thicker skin (or some Pamprin).
Claycord.com website comments:
The "creepy tree" in Clayton, on Seeno's property on the hill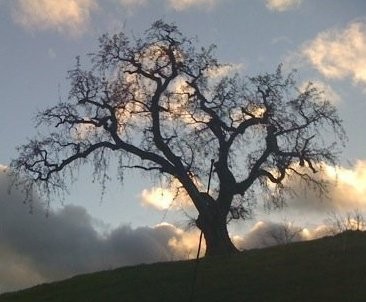 This "creepy tree" is in Clayton, but the cool story about this tree is that some CLAYCORDIAN has set up a facebook fan page for it, and they take pictures of it (almost) daily.
Here's what the creator of the "creepy tree" facebook fan page had to say….
Every day when I leave the house, I pass the Seeno property. It's this gigantic house perched on top of a hill. And it's surrounded by trees and animals. On one side of the hill, there is a lone tree, which I dubbed Creepy Tree. I started taking a picture of him every day and posting them on Facebook. I was (and still am) amazed at how many people loved Creepy Tree too!!
Anyway, I now take photos of Creepy Tree daily. He speaks to me — kinda. It just puts me in a good mood to take my daily photo and think about what Creepy Tree might want to say to his fans on Facebook that day. I try to put forth positive messages, to start each day on the right foot. I love hearing that people look forward to the photos of him every day.
This is awesome, we love the "creepy tree", too!
To visit the tree's fanpage, and view other pictures of it, please click

HERE

.